---
Pet Stop LINK
Bluetooth App
Imagine a pet fence app that links your smart phone to your pet. Imagine a pet fence app which monitors your pet's behavior and sends you a notification if a setting needs to be changed –  A setting you can send to your dog's collar with a quick click.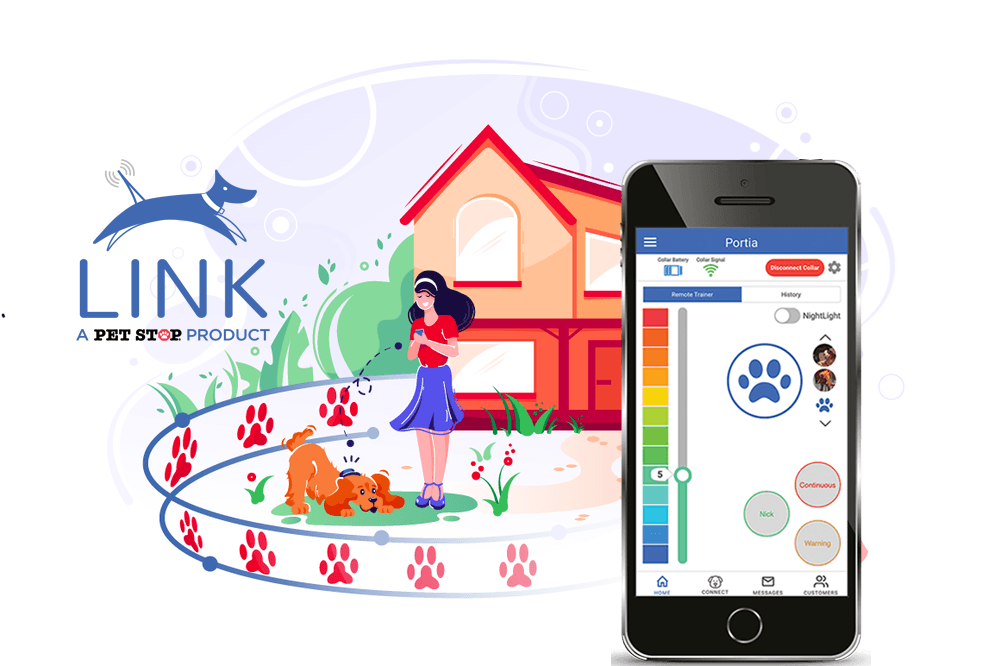 With Link you'll have access to real-time information at your fingertips and so will your Pet Stop Dealer.
What's So Great About a Pet Fence App?
It's not just another app.  The LINK™ pet fence app puts all the information you need at your fingertips and allows you to monitor your pet and the system all from your smart device.
What's Included?
Battery Life Gauge  You wouldn't drive your car any distance without knowing how much gas is in the tank, would you?  Before your pet goes outside, you'll know exactly how much power is left on the collar, allowing you to charge it before it's too late.
History Monitor  You have the comfort of knowing that your pet fence is working, because the LINK Pet fence app will tell you.  It informs you every time your pet gets a warning for getting too close to the border, when your pet gets a correction, and how often it happens.
Gentle Steps Adjustment   You can now adjust the intensity of your gentle steps training, allowing for you to increase or decrease the intensity of the correction to your pet.
Remote Trainer  As an added benefit to your LINK App, it also comes built in with a bluetooth trainer, which allows you to administer corrections to your pet within bluetooth range.
White Light   Don't see your pet outside?  Turn the light on!  Your Pet Stop collar comes with a blinking white light which you can illuminate from your smartphone, instantly alerting you to the whereabouts of your pet.
Don't wait!  Upgrade your system now and relax, knowing your pet is safe and sound simply by looking at your phone.
App available soon through Google Play Store and the Apple App Store


---
With Link you'll have access to real-time information at your fingertips and so will your Pet Stop Dealer. Information like letting you know the collar needs to be charged or prompting you to making an adjustment to the over 1000 available settings.
This breakthrough technology forever changes the peace-of-mind you get from your Pet Stop system, and its only available through participating Dealers.
For over a decade Pet Stop has been the leader in technology, providing more custom settings to individualize our products than any other manufacturer in the industry.